Jacksonville Air Force Divorce Lawyer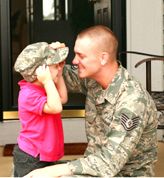 A military divorce — involving an Air Force member or member of another branch of the United States military — differs from a civilian divorce. Not every divorce lawyer is familiar with these differences. If you are facing divorce, it is important to work with an attorney who has specific experience working with military members in divorce.
The Lasky Law Firm in Jacksonville represents Air Force and other military members in divorce. Attorney Cindy Lasky is familiar with the unique legal concerns and challenges facing military members and non-military spouses in family law legal matters. She is an experienced Florida military divorce lawyer who is ready to explain how military status affects your divorce, and protect your rights throughout the legal proceedings. Contact a Jacksonville Air Force divorce attorney today.
Legal Services for Air Force Members and Civilian Spouses
Attorney Cindy Lasky can address any number of issues arising in your military divorce. The division of military benefits — including military pensions — is a concern of many Air Force members. Attorney Lasky can explain how your years of service and length of marriage will affect the division of military benefits. She can also address other divorce and family law matters including alimony/spousal support, child custody, and child support.
The Servicemembers Civil Relief Act of 2003
Before the Servicemembers Civil Relief Act (SCRA) was passed in 2003, certain legal protections were once only available to Army and Navy members. Today, members of the Air Force and other branches of the U.S. military can benefit from the legal protections offered by the SCRA. In a military divorce, the SCRA can delay divorce proceedings (and other civil proceedings) until the service member is available to appear. Due to the nature of military service and deployment, it is not always possible or convenient for a service member to appear or participate in a case.
Find out more about these military divorce-specific topics:
Contact a Florida Military Divorce Lawyer
To schedule an initial consultation with a Jacksonville Air Force divorce attorney, contact our St. Johns County family law firm today.
Please note, all information herein is provided for general informational purposes only. The information herein is not intended as legal advice and should not be relied upon as such. Different factual scenarios may yield different results. In addition, several other factors must be considered in each individual case, and those factors can only be ascertained by speaking directly to an attorney.