Florida National Guard Divorce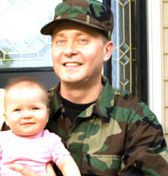 If you are facing divorce and are a member of the National Guard — or if you are a military spouse — it is important to work with an attorney who has specific experience in military divorce cases. Attorney Cindy Lasky has significant experience protecting the rights and interests of both military members and spouses, paying special attention to matters involving the division of military pension and retirement benefits.
To learn more about how Attorney Lasky can protect your rights and interests in divorce, contact a Florida National Guard divorce attorney today.
Assisting National Guard Members in Divorce
Attorney Lasky is an experienced military divorce lawyer who can help you address a range of legal matters:
Division of military pension and retirement benefits
Child custody during deployment
Our firm is ready to assist no matter what unique circumstances you are facing: deployment, separation, parental relocation, etc. We can explain various legal strategies that may be available in an effort to help you realize your goals. Divorce legal matters can be complex and even overwhelming. We aim to inform and educate you while providing exemplary legal services.
Find out more about these military divorce-specific topics:
Contact a Jacksonville National Guard Divorce Attorney
Learn more about protecting your rights in a National Guard divorce. Contact the Lasky Law Firm in Jacksonville to schedule an initial consultation.
Please note, all information herein is provided for general informational purposes only. The information herein is not intended as legal advice and should not be relied upon as such. Different factual scenarios may yield different results. In addition, several other factors must be considered in each individual case, and those factors can only be ascertained by speaking directly to an attorney.