The 5 Emotional Stages Of Divorce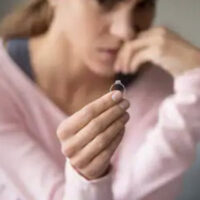 When two people get married, they vow to love and care for each other for the rest of their lives. Often, people take time before deciding to get married. Therefore, the decision to divorce usually causes pain and other complex emotions. Losing a marriage entails more than just moving away from someone you used to live with. It involves the death of a life with that person.
During divorce, people usually experience five emotional stages. However, there is no specific sequence to these emotional changes. In other words, everyone experiences the five emotional stages of divorce differently. Some people don't even encounter every stage. That said, the following are the five emotional stages of divorce;
Denial
You may feel confused and overwhelmed when your spouse asks for a divorce. Being asked for a divorce is something that can be hard to process. It is a lot to take in. You might even find yourself denying that you and your spouse discussed divorce or believing that your spouse did not mean it when they asked for a divorce and will apologize for bringing it up. After your spouse asks for a divorce, denial can be a defense mechanism against the change that is about to occur and the trauma that it may bring. Denial is a mechanism that helps you survive the initial shock of losing your spouse.
Symptoms of denial include shock, confusion, numbness, avoidance, and shutting down.
Anger
People going through a divorce can feel angry towards the spouse seeking the divorce, towards themselves, towards life, towards friends and family, and towards the situations that led them there. As much as it is advisable not to suppress anger, it is crucial that you express it in a healthy way.
Signs of anger include rage, frustration, impatience, feeling out of control, resentment, and increased use of alcohol or drugs.
Bargaining
The bargaining stage entails trying to save the marriage and figuring out what went wrong, and it is often fueled by guilt. You may also feel scared and anxious. During the bargaining stage, you may start asking questions and examining what could have been done differently. You might even plead with your spouse and make promises. Bargaining is an attempt to eliminate any doubts that the relationship could have been saved and negotiate a different outcome.
Depression
The depression stage can be tough. The depression stage usually entails feeling sad and lonely. You may question the purpose of life and feel disconnected from society. You may feel tired, hopeless, and overwhelmed. You may even have trouble sleeping and lose your appetite.
It is normal to experience some degree of depression when you lose a spouse due to divorce. However, you should not get stuck in depression. If you struggle to shake it off, it is crucial that you seek the help of a mental health professional.
Acceptance
At this stage, you acknowledge that the marriage is over and a new chapter lies ahead. At this stage, you decide to move on and dry your tears. You feel whole and understand that you will be okay in your new reality.
Contact a Jacksonville Divorce Lawyer
If your spouse has asked you for a divorce and you need legal help, contact our Jacksonville divorce lawyers at The Lasky Law Firm.