Can You Request Alimony After Divorce Proceedings Are Finalized?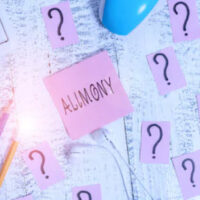 Sometimes, after a divorce is finalized, one spouse may realize that his or her financial situation is not as good as he or she thought. Other times, a spouse's circumstances may change drastically. Sometimes, alimony decisions are made hastily during divorce, and other times, decisions are made when a spouse cannot pay alimony either because of his or her temporary unemployment or other circumstances. Because of such things, it is common for divorced individuals to want to modify a divorce order after divorce proceedings are finalized. But, can you request alimony after your divorce has been finalized? Read on to find out.
Can You Ask For Alimony After Divorce Proceedings Are Finalized?
Alimony is a payment one former spouse pays the other to enable him or her to meet the basic necessities of living and ordinary living expenses.  Sometimes, divorcing couples will agree on alimony, and sometimes the court will need to address the issue of alimony. Whichever the case, a party cannot go back to Court and request alimony or modify alimony unless the Final Judgment specifically awarded alimony and/or reserved jurisdiction to award or modify alimony.  Generally, a request for alimony cannot be raised for the first time after a divorce is final.
There are two exceptions to this rule.  First, the court may not have awarded traditional alimony in the final judgment, but it may have awarded nominal alimony.  Nominal alimony is awarded if one spouse has a genuine need for alimony but the other spouse has no present ability to pay. Typically, nominal alimony is an award of a nominal sum such as $1.00 per year.  This is not a meaningful amount but maintains the actual alimony award.  As such, this is really not an exception to alimony but rather a different type of alimony award which reserves jurisdiction in the Court to go back and award traditional alimony if circumstances change and the payer spouse can now afford to pay alimony.
Nominal alimony is quite an important concept and should not be overlooked during divorce proceedings.  You will have to show a change in circumstances to justify the modification of nominal alimony to transitional alimony; however, at least the benefit is preserved. It can be an important tool and award in unique circumstances.
Second, in Florida, there is a relatively new modification to the Financial Affidavit requirement.  If one spouse commits a fraud upon the Court and the other party by filing a false or fraudulent financial affidavit, it can be the basis for the second party to petition the Court and have the original divorce final judgment set aside with regard to the division of assets and liabilities and possibly the award of alimony.  Thus, if a spouse fraudulently hid income which caused the court to deny an alimony request, this allows the Court to reconsider and award alimony.
Otherwise, if these two special circumstances do not exist, and if the court did not award any alimony in your divorce decree, the Court cannot go back after the divorce and award alimony.
Contact an Experienced Jacksonville Alimony Lawyer Today
Taking steps to protect your financial future even after divorce proceedings have been finalized is crucial. Talk to a knowledgeable Jacksonville alimony lawyer at The Lasky Law Firm to discuss your legal options.
Resource:
leg.state.fl.us/statutes/index.cfm?App_mode=Display_Statute&URL=0000-0099/0061/0061ContentsIndex.html